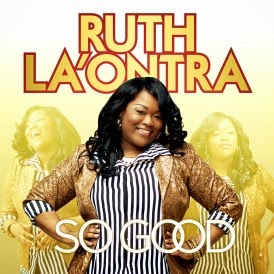 Ruth La'Ontra
So Good

Tyscot Records (2013)
Ruth La'Ontra (Jones), whose debut solo album, So Good, was released on Tyscot last month, comes from solid musical stock.
The twenty-one-year-old singer's father and manager, Bishop Arvetra Jones Jr., is a popular gospel announcer on Fayetteville, North Carolina's WFSS-FM and leader of the North Carolina Gospel Announcers Guild.  Her g
randfather, Rev. Arvetra Jones Sr., recorded singles and albums for Savoy and HSE.  "Count It All Joy," the album's sole traditional-flavored track, pays tribute to the family's pastoral and musical heritage.  Its bluesy riffs, rich texture, and time-honored 12/8 tempo make it far and away the album's best offering. 
The rest of the selections do not stray far musically from the album's overall contemporary gospel tone, even on "Safe," a CCM-inspired love song to the Savior.  While "Count It All Joy" may display the best of Ruth's vocal skills, the title track, which describes the idyllic state of mind and body that comes from spiritual conversion, is also a good listen   Throughout, Ruth's liberal use of melisma to fill spaces and add tails to motive lines evoke Kierra Sheard and Tasha Cobbs. 
In addition to "So Good," the other interesting song lyrically is "I'm In Love with This Man."  It is a sassy Dear John letter, but the new object of Ruth's affection is the one "who holds the world in His hand."  From Ruth's self-released EP, the song made the soundtrack of the film Iniquityand helped her gain the attention of a wider audience.


So Good
is contemporary church with a dash of urban AC for good measure.  As such, it will appeal most to younger worshippers, especially those who follow the winners of BET's Sunday Best.
Pick: "Count It All Joy," "I'm In Love with This Man."