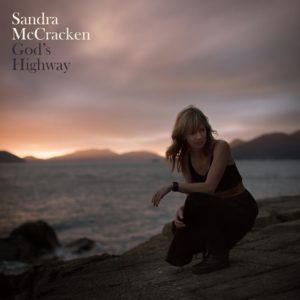 Sandra McCracken
God's Highway
Independent release (release date: September 9, 2016)
www.sandramccracken.com
By Bob Marovich
Modern day hymnist Sandra McCracken's latest CD, God's Highway (also available on vinyl), continues where her 2015 Psalms left off: new songs based on Biblical texts and that sound as if they came from the Primitive Baptist Church hymnbook.
McCracken's beguiling voice combines the cry of Beth Nielsen Chapman and the world-weariness of Emmylou Harris. Her lonesome singing combined with an understated combo and songs with heavy chords but bright melodies give listeners a sense of eavesdropping on the prayers of someone emerging, victorious but weary, from the throes of tragedy.
Still, there's a comfort in McCracken's songs. They are warm blankets over a shivering soul, especially the songs set in 3/4 and 6/8 time, which soothe with the steady rhythm of a rocking chair.
The title track leaves the most lingering impression. This song of hope has the solemnity of a shape-note hymn, especially when the background voices enter. The harmonies heighten the emotional tension every time they appear on the album, and here, they give the song a melancholy feeling, as if it were being sung at a funeral. Indeed, as McCracken notes on her website: "[Co-writer Thad Cockrell and I] finished this song on a memorably painful day in my life. But in the pain, there was triumph and strength coming up around my heart, too. God's strength was tangibly becoming my support."
It takes guts to write a new melody for the Lord's Prayer, but McCracken does so on God's Highway. With the exception of the contrapuntal Amen, the song seems rushed and underwritten. I was hoping for more melodic nuance in the main body of the prayer.
Nevertheless, there's much to be said about how Sandra McCracken writes and performs sacred songs with such deep emotion and how she makes old sounds new again. Her songs are a balm for a broken world. They also remind us that, in the words of architect Ludwig Mies van der Rohe, less is more.
The lyrics and notes can be found on her website, www.sandramccracken.com.
Four of Five Stars
Pick: "God's Highway"