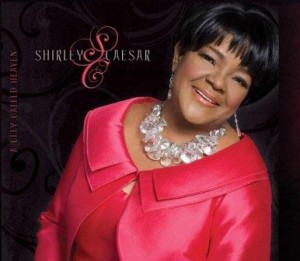 Shirley Caesar
A City Called Heaven
Shu-Bel Records/Light Records (2009)
http://www.lightrecords.com/
The old saying is that everyone wants to go to heaven, but nobody wants to die to get there.
So with the Mayan calendar suggesting that 2012 is the end of the world as we know it, there is a temptation to see irony in Shirley Caesar's GRAMMY-nominated A City Called Heaven, because it handles subjects such as death and the Rapture with, well, rapturous enthusiasm.
But this is gospel music – traditional gospel music – where there is joy, unspeakable joy, in the hereafter. Or, as Pastor Caesar sings on the tambourine-shaking "Celebration," when the Lord comes back, what a time it will be. Similarly, on "Get Light for the Flight," Caesar admonishes listeners to get their soul right because "the sign of the times are everywhere."
A City Called Heaven finds Pastor Caesar in fine fettle, growling and shouting like the evangelist she is and has been since her Caravan days. She's stayed relevant; her duet with J Moss on "Nobody" is not only thematically current (abusive marriages, illness, the economy), but the urban R&B beat is pure J Moss.
Still, the finest moments on the CD are when Caesar goes old-school, such as on the church-wrecking "Been So Good" and the gospel waltz "Can't Even Walk (Without Him Holding My Hand)." The latter song, with its country feel and church mother philosophy, is the kind of performance that suggests Caesar could well become the next reigning Queen of Gospel.
The string-laden, piano-led title track, not the old standard but a new song by Aaron and Bryan Sledge, is a splendid conclusion to a splendid CD. Long live Shirley Caesar!
Four of Five Stars
Picks: "Cornerstone," "Been So Good," "Can't Even Walk (Without Him Holding My Hand)."