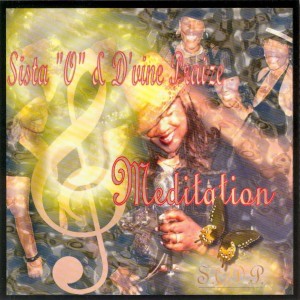 Meditation
Sista "O" & D'Vine Praize
Divine Records/Koch Distribution 2008
www.sistao.com
It is fitting that a colorful butterfly adorns the front and back covers of Meditation, the debut full length CD by Sacramento's newest gospel group, Sista "O" & D'Vine Praize. Much of the music between the covers has the light touch, breeziness, and free-form creativity of the lovely winged creature. Think neo-soul song styling with a relaxing smooth jazz soundtrack.
Also like a butterfly, the ensemble demonstrates its ability to morph into another, completely different, form. It's when the group performs as this other persona – an RnB and hip hop flavored inspirational group – that Meditation comes into full flower.
For example, the opening track and current single, "Givin' It Up," has a captivating chorus, with the brassy female ensemble D'Vine Praize supporting Sista "O" (aka Pam Odom) as if they've sung together in the church their whole lives. In truth, the group was formed a little more than two years ago.
Testosterone is added to the mix, specifically on "Rescue Me" and "Satisfied," as rapper Ramsey (Y.A.) Odom turns the heat up a notch like a quartet's second lead singer. Jock Smith also adds a rhythmic vocal chant on the latter track. Pastor Alonzo G. Morris contributes a heart-melting solo on "He's Coming."
Sista "O" began singing gospel as a member of the St. Paul Baptist Church Choir in Sacramento, California, and cites personal influences ranging from Sade (most telling on "Praise Today") to CeCe Winans and Jill Scott. A breathier, less street-savvy version of Scott comes most to mind when hearing Sista "O" render songs such as "He's Coming" and "Love."
D'Vine Praize (Nashea Jackson, Jillian Morris, Tonya Davis-Hendree, Felicia Johnson, Veronica Duncan, and Catrina Blair) are reminiscent of Virtue and Ziel, and hearken back – as most female inspirational ensembles do – to the groundbreaking work of the Clark Sisters.
The song lyrics on Meditation are rooted firmly in Scripture, and for those who wish to follow along, the specific passages are noted next to the song listing on the back cover.
Although an emerging group, Sista "O" & D'Vine Praize has opened for John P. Kee, Byron Cage, Myron Butler & Levi, and Marvin Sapp, and took home the Best Gospel Group Award at the Pure Gospo Live 2008 Gala Awards last month.
Three of Four Stars