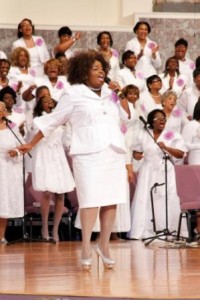 "Everybody Praise"
Temple of Deliverance Women
's Choir
From the forthcoming Habakkuk Music release
Pastor Milton R. Hawkins Presents In The Sanctuary
A thunderous wall of 200+ female voices supports effervescent Memphian Carla Tolbert Taylor on "Everybody Praise," a throbbing hand-clapper of a gospel chorus number. The
Temple of Deliverance
Women's Choir evokes the 1980s and 1990s choral rousers by the likes of Keith Pringle, Dr. Charles G. Hayes, and Rev. Maceo Woods.
Temple
of
Deliverance COGIC
was founded in
Memphis
by the denomination's former Presiding Bishop, the late Bishop G.E. Patterson, whose penchant for the old time songs is kept alive by the church's current pastor, S
uperintendent Milton R. Hawkins. The album release is scheduled for July 2013.