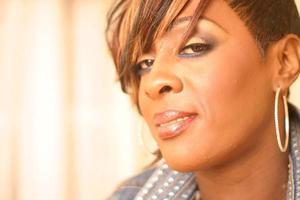 "Let God Do It"
LeJuene Thompson
From the forthcoming CD The Evolution of Me (spring 2012)
(Universal Music Christian Group/Fontana)
It's a family affair on "Let God Do It," the lead single for LeJuene Thompson's forthcoming CD The Evolution of Me. The singer and her husband, Cedric Thompson, wrote the song together, and Cedric produced the track. Son Cedric "CJ" Jr. keeps the beat on drums.
The loping beat CJ contributes is the ideal platform for this traditional offering. Thompson's gospel vocals move from introspective blues to extroverted shout to gut-wrenching squall, all to remind us that no matter how bad things get, "God is able." The song was written from personal testimony and it shows.
Originally from North Carolina, LeJuene Thompson was mentored by gospel singer Nancy Carree Wilson (mother of Men of Standard's Isaac Carree) and developed her career under the tutelage of two contemporary gospel powerhouses: John P. Kee and Donald Lawrence. She possesses the old-school, muscular gospel delivery that fosters the genre's deep roots in blues, New Orleans jazz and early R&B.