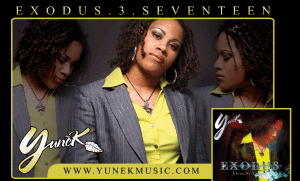 "Got Fruit"
Yunek
From the CD Exodus Three:Seventeen
www.yunekmusic.com
Twenty-six year-old Jessica Joseph of Houston goes by Yunek (pronounced "Unique," and not like a village in Eastern Europe). A semi-finalist in the Gospel Dream competition, Yunek's most recent single, "Got Fruit," bounces brightly along like a neo-soul track by Lauren Hill or India.Arie, both cited as among Yunek's many musical influences. Listening to this song leaves no question as to why the young lady captivated the Gospel Dream judges with her style and lyricism.
Speaking of lyrics, the lines in "Got Fruit" trip over Yunek's tongue with finesse and confidence. Their intricacy will provoke young listeners to want to learn them…which is what any singer/songwriter wants to have happen.