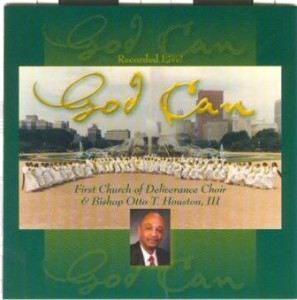 "The Lord's Prayer"
First Church of Deliverance Choir
and Bishop Otto T. Houston, III
On the CD God Can
F.C.D. 2006
Former First Church of Deliverance Minister of Music Julia Mae Kennedy's dramatic arrangement of Albert Hay Malotte's "The Lord's Prayer" finally gets the audio engineering it deserves.
"The Lord's Prayer" closes First Church's latest project, God Can, in a triumphant explosion of sound. A lullaby of synthesized strings opens the song, but is soon clobbered by a bone-chilling tonic chord played on the Hammond organ. Since First Church pioneered the Hammond organ as accompaniment to gospel music in 1939, it's no wonder the instrument commands such a presence in this venue.
Unlike its lo-fi predecessors, on which the arrangement's dynamics were no match for mortal grooves, resulting in distortion and muddy harmonies, this digital recording of "The Lord's Prayer" enables current Music Director and organist Fred Nelson, III to take the choral and instrumental arrangements way over the top. The result is a marvelously clear surge of sound that threatens to lift the roof right off the Art Deco-era church as the prayer heads heavenward.
To be played at maximum volume.