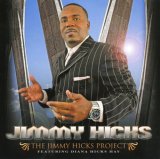 "Move!!! (Right Now!)"
The Jimmy Hicks Project
From the Worldwide Music CD The Jimmy Hicks Project 2007
www.gospeltruthmagazine.com
Elder Jimmy Hicks and Diana Hicks Hay are together again on "Move!!! (Right Now!)." Just as they demonstrated on the Jimmy Hicks and Voices of Integrity hit, "Born Blessed," the duo oozes with charisma and chemistry as they trade leads on what amounts to a gospel novella. Even though the performance is steeped in traditional gospel, what the team brings to it in terms of lyrical banter is fresh and inventive.
The three punctuation marks notwithstanding (one is sufficient, thank you), "Move!!!" is likely to be another winner for the "Elder in Charge."