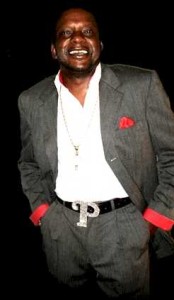 "Born Again"
Perry Taft & Company
From the forthcoming CD Born Again (available January 20, 2009)
www.bksmusicgroup.com
Somehow, it seems fitting that the first official Pick of the Week of the new year is an old-school quartet recording about being reborn spiritually.
On "Born Again," Perry Taft pumps out line after line with a preacher's breath and cadence. He also facilitates musical exchanges with members of his quartet in the style of Jimmy Hicks. Quartet fans will love the extended vamp on "Born Again," which is exhilarating listening and in line with the sanctification the quartet sings about. And, of course, there's that funky guitar work holding it all together.
The always-helpful Gloryland Gospel notes that Minister Taft has sung with the likes of the Gospel Keynotes, the late Tommy Ellison and the Five Singing Stars, Darrell McFadden and the Fantastic Disciples, and Bill Pinkney and the Gospel Drifters. No wonder Taft is so doggone good at what he does. He's learned from some of the best in the biz.
"Born Again" is from the album of the same name, scheduled for release by BKS Music Group on January 20, 2009.