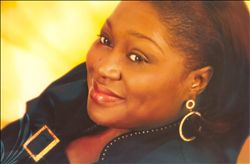 "Good To Me"
Carolyn Traylor
Malaco Records (2013)
www.malaco.com
Carolyn Traylor's "Good To Me" is a brassy, bluesy declaration of God's goodness with a beat that will have listeners clapping hands and bobbing heads. It has the right blend of traditional fire and contemporary smoothness.
The Greenville, Texas, native is known for "There's a Story Behind My Praise." "Good to Me," written by Chicago's own Daniel Weatherspoon, is from Traylor's album Waiting.