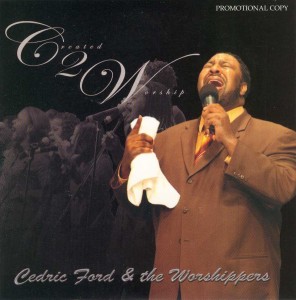 "Created 2 Worship"
Cedric Ford & the Worshippers
From the CD: Created 2 Worship
GetRight Records 2007
http://www.myspace.com/cedricfordandtheworshippers
Based in Houston but with roots deeply planted in Chicago's west side and south suburbs, Elder Cedric Ford has been singing since he could talk, blending first with his family's group, the Ford Singers, and later with Shekinah Glory Ministries.
"Created 2 Worship" is the title track of Cedric Ford & the Worshippers' new project. Recorded live at New Community Baptist Church in Houston, the single features a soothing melody and smooth ensemble harmonizing, while Elder Ford's hard-edged singing/preaching delivery hammers home the message.
Clocking in at 9:25, "Created 2 Worship" could use a radio edit, but at any length will be sure to echo in listeners' minds and hearts for sometime afterward.