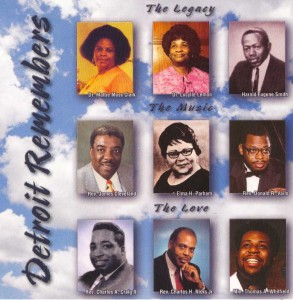 Detroit Remembers
, Vols. I and II
Various Artists
Sound of Gospel 2002 (Vol. I), 2007 (Vol. II)
Gospel historian Professor L. Stanley Davis introduced me to this collection, which contains some of the most thrilling, exhilarating traditional gospel music performances – and I mean gospel with a capital G – that has been released in the past few years.
I have always held Armen Boladian's Detroit-based Sound of Gospel label in the highest regard. Besides releasing some of the earliest albums by the Clark Sisters and extending the Southwest Michigan State Choir's recorded legacy, Sound of Gospel has been consistent in its superb audio quality and tasteful A&R. The result is that one can pick up a Sound of Gospel album without knowing anything about the artist, and be guaranteed of a satisfying performance.
Detroit Remembers Vols. I and II are a total of three CDs by the self-acknowledged "biological and spiritual offspring" of Detroit's cadre of gospel pioneers, including Clark, Whitfield, Cleveland, Craig, Smith, Vails, and Nicks. Proving the apple doesn't fall far from the tree when it comes to the artistic gene, the new generation (many from the Charles Craig Family) mixes with the legends in recreating with uncanny accuracy the energy and excitement of Detroit gospel as it sounded from the 1950s through the 1980s. Thus, Ora Watkins-Jones returns as soloist on Mattie Moss Clark's "Climbing Up the Mountain," sounding as if she hadn't aged a day since the original recording was made for Savoy in 1965. A personal favorite is Rev. Charles H. Nicks Jr.'s prayerful "I Really Love the Lord," a composition I haven't heard in more than 15 years. It was like greeting a long-lost friend and catching up as if not a day had passed since our parting.
Other standout moments on the first volume include Hulah Gene Dunklin Hurley – also sounding as if she hadn't aged a day – reprising her awesome 1959 Voices of Tabernacle performance of "Jesus Will." Throughout the project, a team of organists coax a marvelous array of chortles, warbles, chirps, and purrs out of the Hammond B3 until it sounds like a member of the congregation overcome by the spirit.
Given the success of the 2002 project, the players regrouped last year to record Volume II, though sadly without Hulah Gene Dunklin Hurley, who passed away in the interim, and in memory of Ron Winans, who also went on home between volumes.
Volume II continues where the first installment left off: song after song of expertly recreated performances, many of which are out and out church wreckers, with the choir singing as if it is the last day on Earth. For example, a rockabilly guitar dances playfully around a strongly voiced "Search Me Lord," while Harold Smith's "Work On, Pray On" is reminiscent of the hard-charging workout given to it by Chicago's Dr. Charles Hayes and the Warriors. Charles Craig's arrangement of "Down by the Riverside" sounds just like the theme to the short-lived 1960s program "TV Gospel Time," and Mattie Moss Clark's "I Thank You Lord" is as invigorating as the 1963 original.
Detroit Remembers is a must-have two-volume set for those who love traditional gospel, or who want to hear what gospel sounded like back when the pioneers were yet among us. A standing ovation for Detroit Remembers!
Four of Four Stars