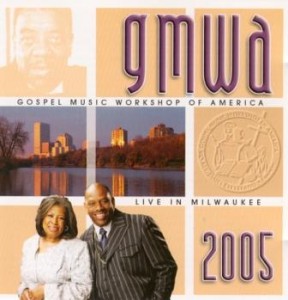 GMWA – Live in Milwaukee 2005
GMWA Mass Choir
Light 2006
www.lightrecords.com
Every year, the Gospel Music Workshop of America Mass Choir showcases a stack of new songs, often penned by up-and-coming composers, for convention participants to take back home and teach to their church choirs. Since the early years, the GMWA has also released the Mass Choir performance as a recording to ensure an even wider audience for the new compositions. The recording also provides convention-goers with a nifty souvenir of their GMWA experience.
Another hallmark of the GMWA Mass Choir is its adherence to Rev. Cleveland's admonition that at the convention, "Everybody is Somebody." This is in keeping with Thomas A. Dorsey's belief that the gospel choir is a democratic organization: anyone who wants to participate, regardless of musical resume, can participate. Thus, the Mass Choir is not composed primarily of music professionals but average "somebodys" who work hard at a job, raise a family, go to church, join their local GMWA chapter, and rehearse regularly with the local chapter choir. Chapter choir members who attend the annual week-long GMWA convention, often as their summer vacation, work long and hard at the national rehearsal, and voila: the end result is a spit-polished but essentially volunteer driven choral sound with professional gospel artists as soloists, led by the indefatigable Dr. Helen Stephens.
And that is what we have with the latest GMWA Mass Choir project, recorded at the 2005 convention, held in downtown Milwaukee. The recording put its best foot forward from the get-go, as Chicagoan Malcolm Williams leads a spirited choir on his neo-traditional composition "My Everything." Gospel globetrotter Norris Garner is next, fronting the choir on his island-flavored "God is in This Sanctuary." Longtime GMWA leader Dr. Charles Fold cools the program down with a solemn rendering of "I'll Bless His Name." This track is particularly poignant, as the Milwaukee convention would prove to be Dr. Fold's last; he passed away in April 2006.
Other notable tracks on the CD include Dr. Calvin B. Rhone's "I Have a Savior (Jesus is His Name)," which riffs lyrically on "I Have a Friend Above All Others" while musically beating a grinding blues. Angela Bennett's hard shouting lead on "Oh Jesus" provides the most dramatic, sanctified singing on the hour-plus recording. "Be Thou Exhalted" gives the Mass Choir a chance to really strut its stuff, as it crescendos through a series of key changes, each one threatening to shake the rafters of the convention center.
For those who enjoy a gospel choir engaged in good old fashioned call-and-response singing, GMWA Live in Milwaukee 2005 will satisfy.