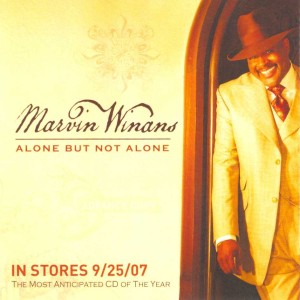 Alone But Not Alone
Marvin Winans
Pure Springs Gospel 2007
www.purespringsgospel.com
One of the smoothest male voices in gospel today, Marvin Winans recently released Alone But Not Alone, a collection of what sound like personal testimonies tinted with cool RnB. The project is among the first to be released on sister CeCe's Pure Springs Gospel label.
The dozen songs deal with the struggle of maintaining one's faith in the wake of life's various vicissitudes, such as divorce, disease, and war (without and within). The soundtrack to this inner tension is constructed on melodies and arrangements that borrow liberally from smooth jazz and brassy-sweet '70s Earth, Wind and Fire and TSOP vibes.
In addition to "Just Don't Wanna Know," which I noted in an earlier entry has Oscar potential, other prime tracks are "Joy," which features a classic chirping Hammond organ and an anthemic interpolation of the oft-gospelized hymn "I Can Tell the World." Another standout is "Peace and Love," made all the more interesting with its interjection of "Lift Every Voice and Sing." "Sinner's Prayer" showcases Marvin's vocal technique; the project couldn't have concluded on a more perfect note.
With superb production and Winans' velvety, sincere singing, just about every one of the songs has crossover potential. Certainly Alone But Not Alone will appeal to fans of the sacred and secular. Besides, the Pentecostal church of Winans' roots taught us that when you get right down to it, there is little distinction between the two when it comes to music.
Three and a Half of Four Stars