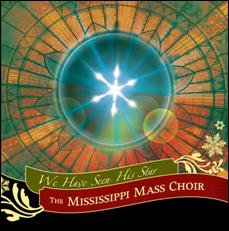 We Have Seen His Star
Mississippi Mass Choir
Malaco Records 2007
www.malaco.com
Gospel artists have been recording Christmas carols since Sister Rosetta Tharpe hit one out of the park in 1949 with her double-sided disc for Decca, "White Christmas"/"Silent Night."
As expected, other labels leapt into the fray the following year to capture their own share of holiday cheer. In 1950, Mahalia Jackson waxed "Silent Night" for Apollo Records, and Gotham Records released odes to Christmas from several of its most popular gospel stars, including the Davis Sisters, the Harmonizing Four, and the Angelic Gospel Singers (the Angelic's "Glory, Glory to the New Born King" became an instant classic). The Ward Singers released their version of "Silent Night" on Savoy in 1950, as well.
The year 1951 saw releases by the Patterson Singers and Charles Watkins. Christmas gospel-style reached its apex in 1962 when Vee Jay Records released the soundtrack of Langston Hughes' Black Nativity, starring the Alex Bradford Singers, the Stars of Faith, and Princess Stewart.
The lure for gospel artists to produce a Christmas album continues apace, and with the holidays nearing, 'tis the season for these CDs to start pouring forth into the marketplace. Among the artists with Christmas projects this year are Vickie Winans, Yolanda Adams, and the Mississippi Mass Choir.
We Have Seen His Star is Mississippi Mass's contribution, and it features the big, bold, majestic sound that has been the group's aural stamp since its founding by the late Frank Williams in 1988. The track listing is a mix of gospelized Christmas classics and newly-penned compositions. Some of the new songs, especially "We See the Star," "Unfailing Love," and the bluesy "Wise Men Still Seek Him" have melodies general enough that they can be enjoyed any time of the year.
For pure beauty, however, there's the straight arrangement of "Silent Night." "Glory, Glory to the New Born King" is included under the pseudonym of "Jesus, Oh What a Wonderful Child." The radio-friendly and finest track is "Go Tell It on the Mountain," which begins with the choir singing like a jubilee group and morphing into the hard-singing chorus that it is. Soloist Lillian Lilly really sells this spiritual. It is reminiscent of the spunky arrangements on 1992's successful various artists compilation, Handel's Messiah – A Soulful Celebration.
The late Rev. James Moore concludes the project as a member of a trio of soloists on "Come All Ye Faithful."
In true Mississippi Mass style, We Have Seen His Star ushers in this year's holiday season with might and power.
Three of Four Stars