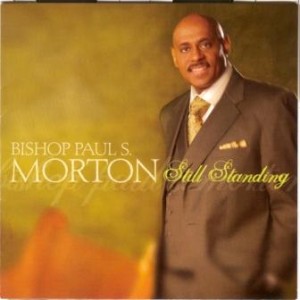 Still Standing
Bishop Paul S. Morton
Light Records/Tehillah Music Group 2006
www.fullgospelbaptist.org
Still Standing is a collective sigh of relief and exultation set to music and lyrics, recorded a fragile year after Hurricane Katrina and the levee breach destroyed Bishop Paul S. Morton's flagship Greater St. Stephen Full Gospel Baptist Church in New Orleans. The water also ravaged members' homes; destroyed their personal possessions; injured and killed men, women, and children; and scattered many of the 20,000-strong congregation across the land and country.
While making the CD was therefore a cathartic and emotionally compulsory enterprise for Bishop Morton and his church, it is as much Kurt Carr's project as Morton's. The former produced the CD, wrote most (and arranged all) of the songs, played keyboards, and lent his own vocals as well as those of the Kurt Carr Studio Crew.
Carr explained to the assembly that he wanted to do something to help Katrina victims, and Morton's call to produce this project was therefore timely. Carr added that his objective was not to write about the storm or about pain, but about redemption, and he succeeds in doing that. At the same time, storm and pain were not far from the minds and hearts of the flock. For the first hour or so, you could feel the raw sorrow hanging heavily like humidity above the motivational lyrics and up-tempo singing.
Two-thirds through the project, however, guest artist Tramaine Hawkins helped empty the emotional floodgates by shouting herself happy on Walter Hawkins' 1980-vintage "Holy One." The musicians responded by launching into gospel's trademark frenetic instrumental vamp, the musical signal that the Holy Spirit has entered the house.
While the project's opening title track, "I'm Still Standing," is a high energy, shouting testimony worthy of a radio edit version, the most musically interesting performance on this 78-plus minute production is the church workout, "We Made It." The choir cleverly interpolates "Leaning on the Everlasting Arm" in the song's bridge, while Hack Bartholomew sounds the trumpet and his fellow musicians take everyone on all-too-brief excursions into gospel zydeco, New Orleans-style. Gospel zydeco! Now there's an idea needing greater attention! Attendees noted that the vibe was of a New Orleans-style funeral procession, complete with people waving handkerchiefs.
A two-song tribute to Thomas Whitfield is also woven into the program, with Bishop Morton explaining that it was Whitfield who produced his first recording. Tehillah's CEO Pastor Jerry Q. Parries, who serves as Executive Producer of Still Standing, has in the past acknowledged his own debt of gratitude to Whitfield for songwriting counsel.
Taken as a complete performance, Still Standing has the rhythm and energy of a good hard cry that wrenches the body for a time but leaves it cleansed and renewed.
3 of 4 Stars