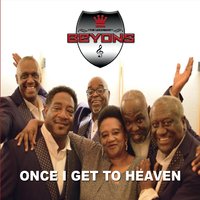 The Legendary Beyons
Once I Get to Heaven
Independent (release date: May 15, 2019)
https://store.cdbaby.com/cd/thelegendarybeyons3
By Bob Marovich
On Once I Get to Heaven, the Legendary Beyons of Portland, Oregon, delivers eleven selections with the velvetiness of a '70s soul vocal group but with a shouting lead vocal, courtesy of Thurtis Channel, of a traditional gospel quartet.
The quartet counts such soft soul vocal groups as the Delfonics, Whispers, and Esquires as inspirations, and it shows in its delivery and arrangements. For example, with mellow harmonies punctuated by sultry sax, the title track envisions the entrance to Heaven as a tranquil experience, where only love and unity will be found. The enthusiastic "Your Love is so Wonderful" opens with vocal scatting evocative of Earth, Wind and Fire. An EWF vibe encompasses the album. An extended but uncredited saxophone solo fronts "Guide Me," a humble prayer for earthly and spiritual direction.
The album's scattering of inspirational songs includes "Family Love," an ode to the power of the family unit to support and empower each of its members. On "Song for My Daughter," the singers encourage the "daughter" of the title to let God show her the way out of despair and into an understanding of life's possibilities. Then, taking their own advice, "Your Love is Blessing Me" answers the universal question, "Why me?" with reassurance that God's love heals and restores.
Group members in addition to Channel are Ira Hammon, James Tims, Jeddy Beasley, Sherman Davis, and Donnie McPherson. The gentlemen formed the Beyons as the Delmars while they were in high school. Taking a page from the '70s soul scene, each member includes his zodiac sign on the group's webpage. It's a group that one could easily hear singing "Break Up to Make Up" as "Once I Get to Heaven."
Three of Five Stars
Pick: "Once I Get to Heaven"