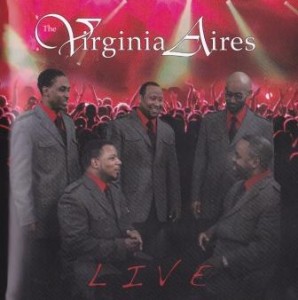 The Virginia Aires
Live
Dove Records, Inc. (2009)
href="http://www.myspace.com/thevirginiaaires">www.myspace.com/thevirginiaaires
By Bob Marovich for The Black Gospel Blog
The last time TBGB reported on the Virginia Aires was in 2008, when the Chesapeake, Virginia quartet was waging war on drugs with their single, "Drugs are a Trick of the Enemy."  Their cautionary tale about addiction as a devil's deal had a hopeful ending: "You're gonna be free."
The single is included on the Virginia Aires' recent CD, Live.  Recorded at TCC Roper Performing Arts Center in Norfolk, Live includes another warning song, "Part Time Christian."  In a retreading of the "what's the matter with the church today?" theme, the group calls out the church folk who are at the altar on Sunday and the club on Saturday.  Like "Drugs," "Christian" is about changing one's way of living for the better.
The album's hard-hitting hip-slappers are the opening "Faith Without Works is Dead," and "Oh What a Night."  While the Dells' R&B "Oh What a Nite" was a dreamy reminiscence of a lovely date, set to a stroll tempo, the Virginia Aires "Oh What a Night" is a drive-tempo testimony about the day one got religion.
"He Looked Beyond My Faults" is not the Dottie Rambo tune, although it does draw on its lyrics.  The song's rocking chair rhythm allows the quartet to get bluesy and improvisational.  "Psalm 133" ("How good and pleasant it is when God's people live together in unity") is a call for people to put aside their differences and come together.
It is difficult to hear the live audience on all of the tracks, which is an unfortunate challenge many live albums have, especially given the interactive role audiences play in gospel programs.  Nevertheless, the Virginia Aires are helping to keep the century-old Tidewater quartet tradition alive, while updating it musically for younger generations.
Four of Five Stars
Picks: "Faith Without Works is Dead," "Oh What a Night"