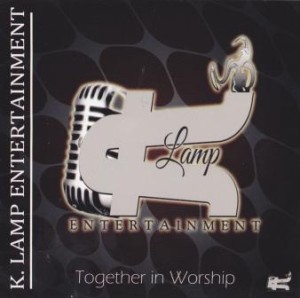 K. Lamp Entertainment
Together in Worship
Kevin R. Lampton Publishing Co. (2012)
In gospel music, no two performances are exactly alike. Gospel song sheets are skeletons on which singers add the flesh and blood with their individual interpretation. The ability to sell a song to a congregation is as important, if not more so, than what is printed in the original score.
Together In Worship is a compilation of compositions and arrangements by Louisianan Kevin R. Lampton that are interpreted by a variety of male and female soloists, duets, background vocalists, and guest musicians. The songs vary in lyric and arrangement from P&W and contemporary to traditional.
The traditional songs stand out. Stellar Award-nominated Jai Reed, who participates on three of his fellow New Orleans native's pieces, gives "Press, Pray, Prevail" a splendid reading. This song of encouragement is arguably the best of the ten selections on Together In Worship. Jacqueline Mayfield turns "Father, I Need You Right Now" into a church wrecker by squalling her call to the Father for help. Rev. Moses S. Gordon is an old-style, flatfooted preacher-singer on an arrangement of "Jesus Paid It All." The synth was unnecessary, as E. Dwight Franklin's intuitive piano provided Gordon with ample assistance.

The praise anthem "Song of Thanks" benefits from an extraordinarily passionate performance from Mesha Iglehart, an excellent female soloist who sadly does not participate on any other song.
Some singers on Together In Worship are better than others, and some songs are better than others, but in all cases the artists do their best to interpret the songs for maximum impact.
Three of Five Stars
Picks: "Song of Thanks," "Press, Pray, Prevail."