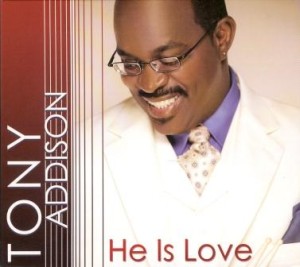 Tony Addison
He is Love
That Other Label (2010)
http://www.tonyaddisondrummer.com/
There are gospel saxophonists, gospel bassists, gospel violinists, gospel harpists, gospel keyboardists (of course), and with Tony Addison, a gospel drummer.
It's no surprise, then, that percussion takes center stage on Addison's debut CD, He is Love.
No, we're not talking an album-long drum solo, but rather a project that places religious songs in the context of various world rhythms. In fact, on one of the CD's ten tracks, songster/actress Rosalind "Roz" White sings, "If I could, I'd go around the world." Her point is that she would like to go around the world spreading the good news. An accomplished combo of musicians grants her wish, in part, by taking her, and us, on a world cruise of music.
For example, the title track has touches of Brazilian polyrhythm while a brassy Afro-Cuban shuffle lifts "God is By Your Side." A Calypso beat fuels "Let's Praise Him," and the cornucopia of percussion on "He Is Jesus," on which vocalist William Hubbard lets loose on the vamp, is the closest we come to an Addison drum solo.
The praise and worship songs, all written by Addison, are eager and friendly enough, but a tad too conventional for my taste. One notable exception is "Lost Without You." Lead vocalist Anthony Manough sells the smooth, pop song whose title telegraphs the message: we are lost without the Lord.
A former boxer whose fast-lane life "got the best" of him, Addison began to study music and eventually formed his own trio to play a variety of music styles. He had imagined his first CD to be jazz, but the Lord thought otherwise. Still, jazz is an intrinsic component of He is Love, as jazz is, and always has been, a key ingredient in gospel music.
Three of Five Stars
Picks: "Lost Without You," "He is Jesus."