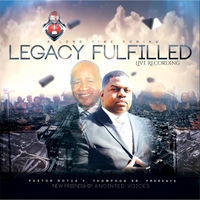 "Trouble in My Way"
New Friendship Anointed Voices feat. Betty Lott
From the CD A Long Time Coming: Legacy Fulfilled
https://www.facebook.com/NewFriendshipMissionaryBaptistChurch/
By Bob Marovich
"Trouble in My Way" is not the kind of gospel song you hear on urban radio, necessarily, but it is the kind of gospel song you hear in small churches located in urban centers and small towns across America.
It is with gusto that Betty Holmes-Lott leads Gary, Indiana's Anointed Voices of the New Friendship Missionary Baptist Church. This superb pewburner has been sung at every conceivable tempo by some of gospel music's greatest artists—from the Dixie Hummingbirds to the Roberta Martin Singers. This iteration was recorded at a driving mid-tempo in front of a church audience to fulfill the church's founder's wish to someday record the choir.
The Anointed Voices are under the direction of music minister Antionette Gaines. The Rev. Royce F. Thompson Sr. is pastor of New Friendship on Waite Street in Gary.