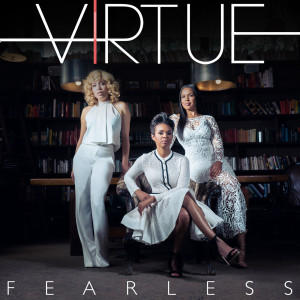 Virtue
Fearless
Mixed Bag/eOne New York (release date: February 26, 2016)
www.virtuegirls3.com
By Bob Marovich
Norma Desmond declared in Billy Wilder's Sunset Boulevard: "I hate that word [comeback]. It's a return."
With Trin-i-tee 5:7 in suspend mode and Mary Mary doing solo projects, it's a good time for the sister trio Virtue to return (thanks, Norma). After an extended hiatus, the Dove Award-winning and GRAMMY Award- and Stellar Award-nominated group released their seventh studio album, Fearless, on Friday.
Karima Kibble, Ebony Holland, and Heather Martin augment their characteristically sunny, breezy and optimistic outlook with assertive Urban Contemporary licks, electrified harmonies, and injections of electronica. From the funky guitar licks that open the album to the rap interlude from Dee-1 on the title track, it is clear that Virtue has brought their sound into the new millennium.
At the same time, the album's finest moments are the slower, more deliberate ones, where the ladies harmonize and deliver lyrics that leap out of the speakers. Examples are the album's debut single, "You Are," but most especially their acoustic spiritualization of Extreme's 1998 "More than Words," the Lord-as-superhero "Saved the Day," "Worship You," and "Amazing."
Still, the "fearless" moniker fits well with the ladies' unapologetic, invulnerable delivery, signifying their individual and collective maturity in music and experience. The title track finds them donning their boots to kick down the doors that block personal and spiritual growth. "Walk it Out" is another declaration set on stun. Their cover of the Clark Sisters' "Miracle" is reminiscent of previous Virtue oeuvre but with more punch and grit.
Fearless is the Virtue you remember but with all the musical pizzazz of 2016.
Four of Five Stars
Picks: "You Are," "More than Words."