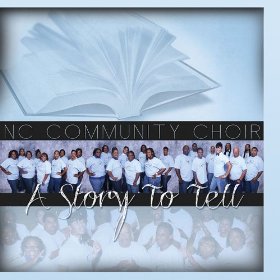 "Whatever You Need"
The North Carolina Community Choir
From the 4 Winds Records release
With "Whatever You Need," the North Carolina Community Choir puts an asterisk after the statement that the Southeastern U.S. is exclusive territory of the gospel quartet.  
The single is quintessential gospel choir: a hand-clapping, joyous workout on God's infinitely abundant generosity.  Whether one needs love, peace, joy, or happiness, the song states, God "will give it to you." 
Still, one hears a definite quartet influence in the choir's extended vamp and M. Duval Smith's meaty down-home lead vocal.  Not surprising: the singers formed initially to back the Sensational Nightingales on "Every Promise in the Book is Mine" and Rev. F.C. Barnes and Darrell Luster on their old-school hit, "(God Is God) He Won't Change."  
Hearing something good that ought to be continued, the singers organized as the North Carolina Community Choir.  The group has since backed Lil' Blair and the Fantastic Violinaires, performed on Bobby Jones Gospel, and recorded an album.