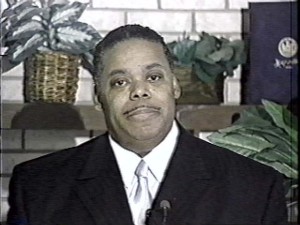 From TBGB friend Elder Mack C. Mason. It is so sad to lose such a young and talented man as Billy Carson:
We regretfully announce the passing of our good friend, William "Billy" Carson.
Billy was host of Gospel City Videos telecast and producer of many church telecasts which aired Saturdays and Sundays during the Broadcast Ministers Alliance programming on Channel 25.
Billy's spiritual nurture and career in gospel music began at St. Lawrence COGIC, where he later organized the Billy Carson Singers. This young group traveled with the late Anna Broy Crockett Ford to many COGIC conventions throughout the US.
Billy was also an acclaimed teen percussionist seen on TV's Jubilee Showcase, heard on recordings, and live broadcasts accompanying such ministers and artists as Rev. Maceo Woods, Mahalia Jackson, Rev. James Cleveland, Rev. Clay Evans, Rev. Milton Brunson and the Thompson Community Singers, Dr. Charles Hayes and Universal Kingdom, The Raymond Raspberry Singers and many others. Billy produced several recordings by The Billy Carson Singers featuring Linda his wife of 37 years, as well as his sisters Marla and Sylvia, also Tyrone Dickerson and Serenity, and three albums by Rev. Maceo Woods and Christian Tabernacle.
His radio broadcasting and TV production credits stretch from Radio Station WXFM in 1975, to his own popular weekly telecast Gospel City Videos, which debuted in 1993 and featured music videos and artist interviews. Billy will be greatly missed.
Services will be held Saturday, February 2nd, 2008 at Christian Tabernacle Church, 4712 South Prairie Avenue, Chicago, IL 60615 with Pastor Maceo L. Woods, officiating. Visitation begins at 9:00AM and Funeral Services at 10:30AM.
MACK C. MASON, Author of
"Saints in the Land of Lincoln"