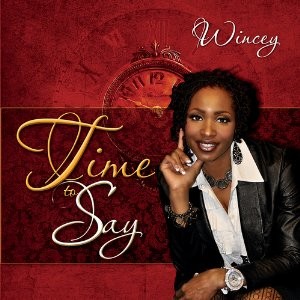 Wincey
Time to Say
Winceyco Music (2012)
www.winceycomusic.com
By Bob Marovich for The Black Gospel Blog.
"I'm musically inclined to sing the songs that glorify."
So croons singer-songwriter Wincey Terry-Bryant on the title track of her self-produced Time to Say, an album she began recording in 2008.
The songs, she writes on her website, were birthed out of a time of "heartbreaks and disappointments in and out of the music industry" that led to a disillusionment that sounds straight out of Emily Dickinson: "Resigning myself to accept the consolation prize that I considered to be my life."  Wincey continued to follow her passion and calling and the appropriately-titled Time to Say is the result.
The musical inclination Wincey references on the title track is a mix of cool and understated melodies and lyrics, a gentle vocal delivery, and a touch of light jazz.  It might just be me, but Wincey evokes the light touch of Dionne Warwick when she crooned Bacharach-David tunes to the top of the charts.
A good example of the album's simplicity is "My Prayer," an expression of gratitude that follows the singer through the day, from morning to evening prayer.  The current single, "I Remember," is another easy melody and vocal.  "Beautiful" is an acoustic love song to the Most High.
Wincey's most demonstrative singing is saved for "War," a rhythmically funky declaration of combat on evil through dance and singing as praise made manifest.  Real brass in the form of trumpets, sax, and trombone lift the performance, while a small combo supports "Separate Me," the album's most musically interesting moment.  It is also tricky lyrically, as some lines move with the unpredictability of scat singing.
Time to Say makes for a pleasant listen because of Wincey's soothing voice and the expertise of the musicians who support her.
Three of Five Stars
Picks: "I Remember," "Separate Me."