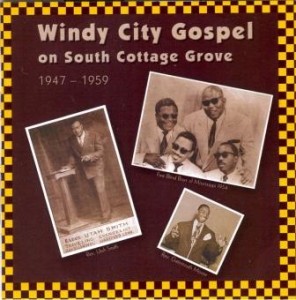 Various Artists
Windy City Gospel on South Cottage Grove: 1947-1959
Macomba Music Group (2010)
www.rootsandrhythm.com
When one thinks of Chess Records, what springs to mind are artists such as Muddy Waters, Bo Diddley, Chuck Berry and Etta James. Little Walter. The film Cadillac Records.
But like most post-war independent labels, Chess/Checker carried a gospel catalog. Although it's catalog really grew during the 1960s, after signing such top stars as the Soul Stirrers, Violinaires, the Salem Travelers, and the Meditation Singers, Leonard and Phil Chess' involvement with gospel went all the way back to the beginning. All the way back to Aristocrat Records, the label they purchased that predated their eponymously titled imprints.
The two-CD Windy City Gospel on South Cottage Grove, with liner notes by Opal Nations, devotes its attention to these early Aristocrat/Chess/Checker offerings, released during the heady days of the genre's Golden Era. While some of the recordings, such as Elder Utah Smith's iconic "Two Wings" and the Famous Blue Jays' "I'm Bound for Canaan Land" have been reissued before, many of the 52 selections are available on CD for the first time. This includes the Silver Stars' chilling a cappella "12 Years Old" and the impossibly-rare Dixieland Singers sides.
Among the set's most interesting discoveries are four tracks by the Evangelist Singers of Alabama. Although they never achieved the popularity of the Dixieaires and Golden Gate Quartet, this group performs with the same rhythmic intensity and almost as much polish. COGIC Elder Charles Beck's crooning lead on "When" sounds like a cross between Billy Eckstine and Ivory Joe Hunter. His "Wine Head Willie Put that Bottle Down" is a novelty sketch that takes Dusty Fletcher's "Open the Door Richard" as its inspiration, pitting minister against wayward sinner.
Most of the selections on Windy City Gospel are male based groups, quartets, singers, and one preacher (Mt. Pleasant's Rev. H.R. Jelks; Chess' voluminous library of Rev. C.L. Franklin materials were left out deliberately). The solitary female voice on the set is heard on "Precious Memories" by the Ellis and Dixon Spiritual and Vocal Group. She sings accompanied by a slow-shuffling brassy Dixieland band that kindles images of a New Orleans marching band leading the funeral procession to the burial ground, a mourning saxophone solo piercing the proceedings like lightning in a rainstorm.
The South Cottage Grove appellation, used throughout the liner notes as a nom de plume, refers to the location of Phil and Leonard Chess' Macomba Lounge at 39th and South Cottage Grove, as well as their record company headquarters ten blocks south, before they moved to the legendary 2120 South Michigan Avenue space.
Windy City Gospel is a window to an important time in gospel music when independents captured the sound as it transitioned from sweet jubilee to the more emotionally intense Pentecostal and Holiness style that dominated the 1950s and 1960s.
Four of Five Stars