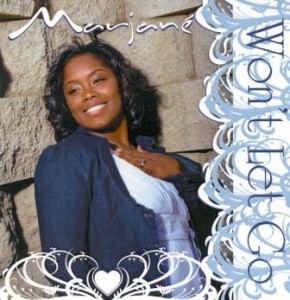 Marjane'
Won't Let Go
J Jane Music Group (release date: July 29, 2009)
www.marjanemusic.com
Earning a first round Stellar Award nomination for Best New Artist for her debut album, Keys to My Heart, Marjane' (pron. Mar-jan-AY) offers a second helping of her breezy west coast sound on Won't Let Go.
The sophomore album from Hawthorne, California's Marjane' is extremely pleasant listening, a mixture of light and airy melodies, body-swinging dance club rhythms and fresh R&B vocals. While some gospel artists send congregations to shouting fits, Marjane' gets congregants dancing and swaying in the spirit. As such, Marjane' is similar in style to other young artists such as Coko and Tonya Hairston Ware.
The songs are a collaboration between Marjane' and co-producer Marvin Paige. They range from the extended mellow ballad "Holy Spirit" to dance tracks such as "Get Your Breakthrough" and "Can't Nobody" (as in "can't nobody do me like Jesus"), complete with effective male rap interlude (artist not credited in the liner notes).
Won't Let Go is not gut-wrenching, heart-rending, emotion-soaked gospel; the lyrics are upbeat, confident and hopeful, ranging from praise and worship to overcoming struggles to grasping the golden ring of life.
"This Joy" is the opening track, current hit-bound single and the album's finest moment. Like an overture of what's to come, "This Joy" captures all of the smiling bounce of Won't Let Go in four minutes and fifteen seconds.
Small wonder this independent artist received a Stellar nod: listening to Marjane' is as refreshing as hearing Pacific Ocean waves lapping on the California shore and feeling the mist of the water on your skin.
Four of Five Stars