With a new vision and a new approach, Xist Music founders T. Black and Sean Simmonds have signed a long term partnership with one of music's long standing companies, Malaco Music Group.

"I'm truly excited about this opportunity; it gives us a partner that understands our vision," says T. Black, CEO of Xist Music. "I really want to thank D.A. Johnson and Tommy (Couch) Jr. for allowing us to continue to build what God has blessed us with."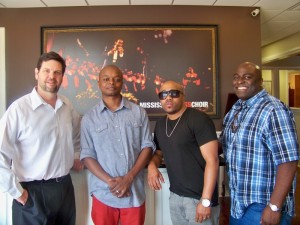 Pictured from left to right: Tommy Couch Jr., President of Malaco Music Group; T. Black, CEO of Xist Music; Sean Simmonds, President of Xist Music; D.A. Johnson, Executive Director of Malaco Gospel
Xist Music will operate as a standalone label with the added services of a booking component and a publishing company. The new merger will allow for the expansion of the artist roster to reflect the ultimate goal, which is to provide Christian based hip-hip, urban and pop artists a strong label partner and also broaden the awareness and exposure behind the marketing efforts of each artist.

The first release under the new partnership is the long awaited Xist Music debut of UK standout Jahaziel, Heads Up, coming Fall 2013; and label president Sean Simmonds' highly anticipated project The Genesis, expected first quarter 2014.

The first new artists signed to the roster are female singing sensation Adia and rising Christian contemporary artist Milton Young, with several more to be named in the coming weeks.