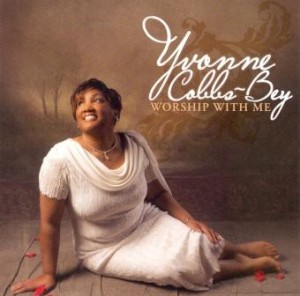 Yvonne Cobbs-Bey
Worship With Me
Beydaz'l Records 2009
www.yvonnecobbsbey.com
Hailing from the musically fertile Bay Area, Yvonne Cobbs-Bey is a gospel artist, songwriter, actor and also serves as choir director and youth department supervisor for Oakland's Harmony Missionary Baptist Church, where Rev. A.L. Cobbs, Sr. is Pastor. Not long ago, she graced the stage of San Francisco's Lorraine Hansberry Theater in a production of Langston Hughes' Black Nativity, to favorable reviews.
Last year, Cobbs-Bey released her third independently produced album, Worship With Me. The ten-track CD features praise and worship, contemporary and traditional selections. Her son, Davon Vigay, lays down the beat on several of the tracks and other family members assist, as well. She possesses a strong voice and a solid command of a song – what the biz used to call "selling a song." She eases through the performance demands of each gospel style without altering her vocal approach.
The traditional pieces on Worship With Me are the most soul-stirring, especially the bluesy "I'm Ready." I was also intrigued by the album's two distinctly different interpretations of the hymn, "Guide Me, Oh Thou Great Jehovah." One version is presented in long meter form with piano accompaniment and what appears to be a multi-tracked Cobbs-Bey lining out with herself. The other (identified as "Guide Me") is a pulse-pounding up-tempo version.
While the studio-based Worship With Me is well done, Yvonne Cobbs-Bey is an artist whose style cries out to be captured in live church performance.
Four of Five Stars
gPod Picks: "I'm Ready," "Guide Me, Oh Thou Great Jehovah."