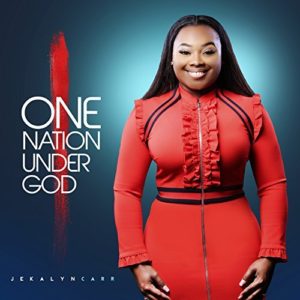 By Bob Marovich
Jekalyn Carr frequently listened to her mother, Jennifer Selvy Carr, as she sang with the award-winning family gospel group the Selvy Singers.
But this time it was different. The preteen was watching the Selvys sing from the set of Don McGlynn's 2010 gospel music documentary, Rejoice and Shout.
"We were on the set of [Rejoice and Shout] and they found out I could sing," Jekalyn told JGM during her recent visit to Chicago. "They wanted me to sing 'Amazing Grace.'"
Jekalyn's "Amazing Grace" stole the show. But for all the buzz about the young girl's performance, it was not a case of overnight success. The singing career of Jekalyn Carr was already several years in the making by the time she appeared in the documentary. She started singing in church at four. Her first CD, Blessed, was recorded when she was seven.
Exuding a humble confidence, Jekalyn said: "When you start young, in a way, you are so much farther ahead in life. That is why I am able to be where I'm at today."
A Stellar Award-winner and Grammy-nominated singer whose 2016 album, The Life Project, debuted at #1 on Billboard's Top Gospel Albums Chart, twenty-year-old Jekalyn is in the midst of a fifteen-city tour to promote her newest album, One Nation Under God and her debut as an author, You Will Win! Inspirational Strategies to Help You Overcome. The book was released yesterday (February 20) and the album hits digital and brick-and-mortar retailers February 23.
"Greater is Coming"
Jekalyn's musical gift was apparent when she was a preschooler singing in the church choir. "I'll never forget," she chuckled. "We were at choir rehearsal and the choir was singing out of key. Mind you, I'm like four years old at this point. I stopped the choir and told them, 'Guys, you are out of key!' and I gave them their correct key."
She not only sang in church, she sang in school and at her kindergarten graduation. She sang with the Selvys, leading the song, "I Can't Give Up Now." At age seven, she began intentionally pursuing a solo career, but not in R&B. It was always going to be gospel. Her musical inspirations ran from the Winans and Donnie McClurkin to the legendary Caravans. "We started with Jesus, we're gonna finish with Jesus!" Jekalyn laughed.
After Blessed came her follow-up album, Heart of God, then Promise, all independent releases on the family's Lunjeal Music Group label. Her big break came when Lunjeal inked a distribution deal with Malaco Records in 2013 for Greater Is Coming.
"I was fifteen years old when Greater is Coming was released," Jekalyn said. "People would say, 'Where did she come from?' It may have seemed like overnight but the process started at five [years old]."
A surprise to the gospel music community, perhaps, but not to Jekalyn. "I always knew I would be successful in my music career," she said. "But when you go from a vision to a reality, it's like, 'wow, this is actually happening!"
Jekalyn credits a portion of the success of Greater is Coming to her parallel career as an inspirational speaker. "For a minute, I thought that singing was all I was going to do," she said, "but when I was singing, it was as if I was doing inspirational speaking through my music. So it was a smooth transition. But it wasn't until I started focusing on that gift, that purpose of speaking, when my music started to expand."
Greater is Coming changed everything. Lunjeal Music Group and Jekalyn's career became a family affair. To keep up with a relentless touring schedule, Jekalyn was homeschooled starting in the fourth grade. Her father Allen became her manager and her older sister, who also sings, handled the company's administrative work. Her younger sister cameoed as a vocalist on Jekalyn's albums. The family moved from West Memphis to Memphis, then relocated to Atlanta.
"All of our writing is done in house, all of our producing is done in house," Jekalyn explained. "A lot of songs are written from personal experiences. When I'm on stage, sometimes the melody will come or the lyrics will come. At any particular moment, it can come. I can be washing dishes and get a tune. I record it and may come back to it. I'm already writing for the next album–if it's in you, it's in you!"
"Giving People the How-Tos"
Jekalyn sees public speaking and singing as two complementary parts of her mission. "I believe my goal and my assignment is to get people to understand that they deserve to live a prosperous life. It doesn't matter what you've experienced or what you used to be in your past. Once you're cleaned up and have the opportunity to get it right, you can be pushed forward into greatness and a life of success. It's all about you knowing how to tap into that place."
She added: "I think I'm all about giving people the 'how-tos.' About getting people to boost their faith and their motivation—especially dreamers who are starting businesses and so many things they want to do, but facing obstacles. To give them songs like 'Greater is Coming,' 'It's Gonna Happen,' 'You Will Win,' 'You're Bigger'—it gives them the boost they need."
Has she ever needed that boost herself? "Absolutely!" she laughed. "Starting out at the age of five, even though I was doing okay singing, I wasn't reaching my full potential. We faced challenges. Once we stepped back and reevaluated the situation and accepted my true calling, which was inspirational speaking, that's when things started to change. Even with that, we kept pushing. Whatever comes our way now, we're winners, we're overcomers because of what we faced."
Among the things coming Jekalyn's way is acting. She recently appeared in the acclaimed television series Greenleaf and sang "Hold Me Close" on Greenleaf Soundtrack – Volume 2, alongside contributions by Deborah Joy Winans, Mary Mary, and Mavis Staples.
"You Will Win"
Now she's added author to her resume.
Taking two to three years to complete, You Will Win! Inspirational Strategies to Help You Overcome is the first book published by the Trinity Broadcasting Network. It was inspired, Jekalyn said, by the testimonies of people she has encountered in her travels around the country.
"The book teaches you how to win in just about every area of life," she affirmed. "It is not God's intention to see you defeated in any area of your life. You don't want to be winning in your health and losing in your finances. Winning in your faith, in your dreams, in your family, in your career—these are areas where a lot of people are struggling."
More than a brand extension, the book also has the potential to deliver Jekalyn's messages of hope to an untapped market. "There are people who don't listen to gospel music but they will read a book," she said. "I want to give people the message in ways that they can grasp it."
Jekalyn's new recording, the live One Nation Under God, puts her canon of hope in a global context. "It doesn't matter whether you are in America, Africa, or Australia," she said. "We are coming together as one nation under God to give glory to God. I believe powerful things can happen when we are in agreement and operating in unity."
Her current charting single, "You Will Win," also on the new album, was almost an afterthought. "We were actually done with all of the songs [for One Nation Under God], but there was one more that needed to be on there, and that was 'You Will Win.' Its message is it doesn't matter how many losses you have had in your past—you can't do anything about that—but you sure can do something about today and about your future. But it's more than just speaking it, it's more than just reading it. There's things that you have to do."
That's also where the book is helpful, she explained. "In 'You Will Win,' you get more in-depth information on what you need to make sure that you're winning every day. The book starts by teaching you how to define your win correctly, and that you cannot compare your win to a game. In a game, only one person can win. But when we define our win according to the plans of God, the purpose of God, we realize that we win every day, whether they are small or large wins. The message is for people to snatch their victory title back and declare that this is your winning season."
Jekalyn started Youwillwin.org to give individuals a chance to share publicly their testimonies of victory over challenge.
Keeping It In Perspective
A first book, a new album, and a weekly regimen of traveling to sing and speak is a lot to manage, but Jekalyn and her family keep it in perspective.
"One thing that we keep in the forefront is balance," she explained. "When it's time to work, it's time to work. When it's time to relax, we make sure that we get our relaxation in. I like to get my hair done, get my nails done, go to the spa. I love going to the movies—anything that consists of relaxation." The family takes a minimum of three weeks' vacation every year. "Balancing is key to longevity in what you do."
Although she never took formal voice lessons, Jekalyn keeps her voice in shape by adopting the time-honored practices of professional vocalists. "Definitely rest. I also try to keep myself hydrated, and exercise my vocals, even if it's nothing but humming. If you don't use it, it will start getting rusty."
In addition to the fifteen-city tour, Jekalyn is looking forward to a visit to Africa in the next few months. It will represent the furthest she has traveled to date.
And what about someday pastoring a church?
Jekalyn didn't miss a beat. "If God calls me to pastor, I will follow. In the meantime," she laughed, "I'm okay with evangelizing!"
For more information, visit: www.myjekalyncarr.net