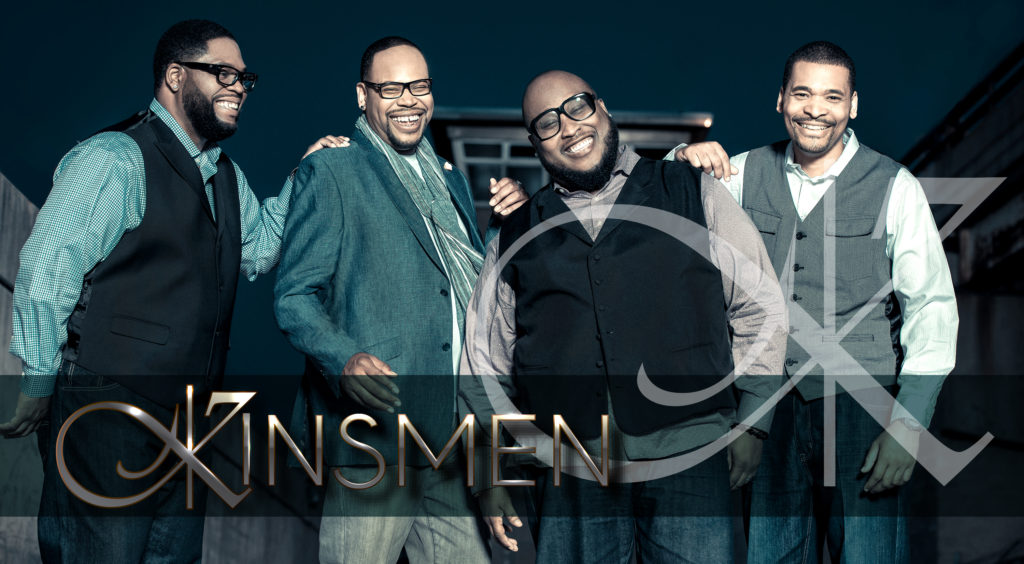 By Bob Marovich
From their genesis in the Vasser Family basement to their forthcoming debut as television actors, the men of Kinsmen demonstrate how a family that sings together stays together.
Around 1985, Robert Vasser, a member of Rev. Dr. Clay Evans' Fellowship Missionary Baptist Church in Chicago, gathered his sons Kevin and Keith and their first cousins, Van Moody and Reggie Tillman, to try their hand at gospel singing. The quartet of young men stood in the Vasser basement and worked on emulating one of Robert's favorite groups, the Mighty Clouds of Joy.
"We started singing around the record player," Van Moody told JGM's Bob Marovich.
The youth changed their group name from Kids Are People Too to Youth Edition as they entered their teen years. They continued to perform as a quartet but also started to incorporate the techniques of contemporary gospel groups, such as the Winans and Commissioned.
Kevin Vasser said: "As teenagers, naturally you have desires to do some other things. My father was our manager and he had us [sing] even when we didn't want to do it. He kept us focused."
Regardless of whether Youth Edition appeared at church or a secular event, Vasser said "we were singing gospel and encouraging people. That's when I felt like this was something that God was calling us to do."
Youth Edition's first and only CD, Anything is Possible (Imi Records, 1998), was produced by award-winner Percy Bady. It hit the Billboard Top Gospel Albums chart.
"We got more serious about [singing together]," Moody said, "and thought it was something we might possibly want to do as a career."
But the foursome had outgrown the Youth Edition moniker. "We wanted a name that could really describe who we were," Vasser said, "and by us being relatives and in kinship, we thought Kinsmen described who we are."
As Kinsmen, the group pays tribute to its quartet upbringing while charting contemporary waters. "We grew up on a cappella singing," Moody said, "but not everybody likes a cappella singing. So we have music too. [Music is] our main thing, but we do a cappella singing."
Van's brother Mario Moody is the main band member and Gerald Hardy plays guitar. Other musicians move in and out. "We've been blessed to have some of the best musicians to travel with us," Vasser said.
The group also writes and arranges its own material. "Mario [Moody] helps the group arrange," Vasser said, "but we have been blessed to do our own vocal arrangements."
"Everybody in the group brings a different spin to songs," Van Moody added.
Kinsmen recently released a single, "Born Again," and are busy working on a full project, which they hope to complete sometime this year. A follow-up single will be out closer to the summer.
"Kevin uses the term 'Gospel Gumbo,'" Moody said.  "We do quartet music—["Born Again"] is a quartet song—but that's just one of the styles that we do. We have some songs that are considered CCM, inspirational songs."
This February, Kinsmen will make its television debut on Why We Sing: The Evolution of Gospel Music. The program, which features Emmy Award winning actress Deanna Foster Reed, will air at 5:00 p.m. on Total Living Network (https://tln.com).  Producer Lorraine Render saw a Kinsmen performance posted online and reached out to them.
"We're used to singing, so acting is a whole different mindset," Moody said. "Studio [recording] is a form of acting, because you do take one and you stop, but acting is all visual."
Meanwhile, Kinsmen—the same four members since the beginning—continue to travel.
"It's about ministering to other people," Moody said. "You might be tired, but once you get on stage, God has a way of renewing your strength, and the anointing can fall and you minister through that."
But Kinsmen hopes to be more than a gospel group. "We want to be mentors to young men," Moody said. "There are a lot of men who don't go to church, and we want to say there is a place and a niche in the church for you. You can overcome all if you keep God first in your life."
"We want to encourage anybody out there to stick with their dreams," Vasser said, "no matter what they are. We didn't start doing this yesterday. We've overcome adversity. There were some mountains we've had to climb. In life, you may have some struggles, but stick with it and believe in God and believe in your family."
For more information, visit www.kinsmenmusic.com.