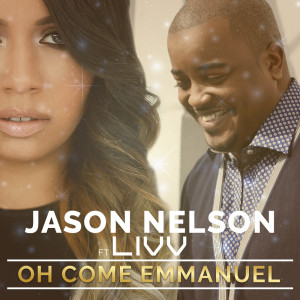 By Marianne Richard, Special Contributor to the Journal of Gospel Music
Jason Nelson just released his Christmas song, "Oh Come Emmanuel," featuring LIVV, a new gospel singer with a unique voice and a beautiful spirit.
When LIVV shared details on the "behind the scenes" of the making of the track, we realized that this Christmas single is more than it presents.  It is a heavy collaboration between Jason Nelson and LIVV. Now, in full confidence, we can say that the song truly exemplifies all that Christmas stands for.
Of course, we were not going to keep what we learned from LIVV hidden. See for yourself who this talented artist truly is, and what she had to share about her collaboration with Pastor Jason Nelson.
What attracted you to the gospel music genre?
What attracted me to gospel music was my love for Christ. God has been so consistent and faithful and when I was at my lowest point in life, I promised God that I'd use my gift to glorify his name. I asked him to open up the doors that he'd want me to walk through and the opportunity to sign as a gospel artist landed on my lap.
Can you tell us about your collaboration with Jason Nelson?
My collaboration with Pastor Jason Nelson was an unforgettable experience. Everyone knows how anointed he is, but I was able to see how much of an AMAZING vocalist he truly is. He is such a well rounded musician and singer and being around that much talent was mind blowing.
The collaboration came at the perfect time. Not only was it amazing to work with one of my favorite gospel artists, but it was amazing being able to pick his brain on music, the industry, and God. It's so easy to get weary as a new artist, but having people as amazing as Jason Nelson actually WANTING to work with me, out of all the thousands of singers in the world, was nothing short of a blessing. I'm so excited and honored to be releasing a song with him.
What was it like making the single with him?
At first I was extremely intimidated, but Jason made me feel so comfortable and gave me so much creative freedom that we just got straight to work. It was awesome to know that he was extremely fond of my gift and was just as happy to be working with me as I was to be working with him.
We shared the responsibility of arranging the song. It was an equal amount of arranging and he was completely open to all my ideas and musical style. I'm definitely a sucker for long tones and fun alternate melodies, and he let me do a lot of that.
What are your plans for the upcoming year?
My plans for the upcoming year are to reach a new level of musicianship. I plan on studying harder than I ever have before. I also want to become a consistent vocalist and that takes lots of practice and hard work. I'm also hoping to have an EP and album out in 2016! I think that's the most exciting thing to be looking forward to this year.
Do you have any New Year's resolutions?
My New Year's resolution is the same every year, and that's to become a better person, Christian, musician, and daughter. Every year I reach a new level in every category. I just plan to push the limits this time around.
Listen to "Oh Come Emmanuel" [[here]]