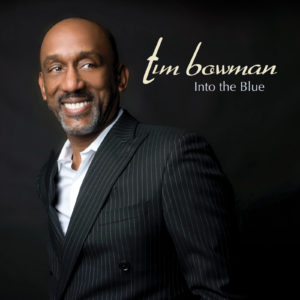 Tim Bowman
Into the Blue
I.M. Records / Purpose Jazz / NIA Music Distribution LLC
(release date: September 8, 2017)
www.TimBowman.com
By Bob Marovich
Tim Bowman's seventh album, Into the Blue, is not a gospel album but a collection of smooth jazz performances, mostly instrumentals, that includes a little of everything, including inspirational and sacred selections.
Bowman, who was musical director for the Winans until he embarked on a solo career in 1987, plays electric guitar with the soulful finesse of Wes Montgomery and the fluidity of Chet Atkins. Kirk Whalum kept coming to mind as I listened to the CD but also Jonathan Butler, whose own musicality, like Bowman's, blends jazz, R&B, and gospel stylings into an artistic mélange.
"Amazing Grace Party" is Into the Blue's one churchy component. It is a medley consisting of "Amazing Grace" and "Wade in the Water." Here the elder Bowman is joined by son Tim Jr. on vocals and fellow skilled guitarist and go-to session man Jonathan DuBose Jr. Demetrius "Krayon" Nabors, another Detroiter with gospel in his DNA, assists on the arrangement and on keys, strings, and bells.
On the inspirational side, one can presume that the Stevie Wonder-esque "All I Need is Love," led by vocalist Stokely (of Mint Condition), is about taking the other side of the prosperity theology argument.  Stokely asserts that he doesn't need fancy material things or anything other than love, pure and simple. In actuality, it serves as Tim's love song to his wife, but at the macro level, it works as an antidote to consumerism and an endorsement of human virtue.
Bowman is even more agile and reflective on acoustic guitar, which he uses to great effect on the instrumentals "Love Forever More" and "Madrid."
The songs on Into the Blue are friendly, uncomplicated, and showcase plenty of technical proficiency.
Four of Five Stars
Pick: "Amazing Grace Party"