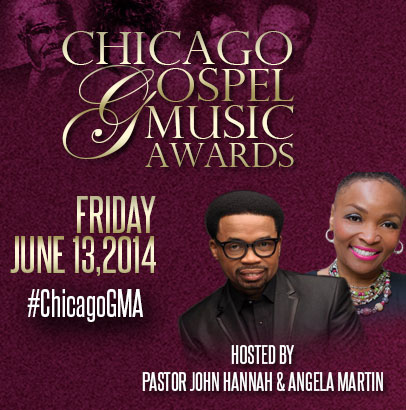 Chicago, IL:

"Chicago Gospel Live" is proud to announce the nominees for the final voting round for the 1st Annual 2014 Chicago Gospel Music Awards.
The Stars of Heaven – I'm Holding On
The Gospel Crusaders – Pressin On
Nelson Larkins & God's Posse – Live in Chicago
Traditional Female Vocalist of the Year
LaVarnga Hubbard – Royalty
Contemporary Choir of the Year
Dexter Walker & Zion Movement- Greater Than Before
One 4 Christ – In True Worship
BRL Chicago – Peculiar People
Traditional – Choir of the Year
Bishop Larry Trotter & Sweet Holy Spirit Combined Choir – Praise Revisited
Bill Winston Presents Living Word "Released"
Charles Jenkins & Fellowship – The Best of Both Worlds
Dr. Charles G. Hayes & the Cosmopolitan Church of Prayer Choir- Back Again
Mark Hubbard & the Voices Featuring Corey Barksdale Jr. – For My Good
Contemporary – Male Vocalist of the Year
Eric Sanders- I'll Trust You
Jonathan McReynolds – Life Music
Davie Moore- A New Beginning
Jamel Lewis – Christmas Without You
Calvin Bridges – So Easy To Love You
Contemporary – Female Vocalist of the Year
Anita Wilson – Worship Soul
LaDonna Hill – Because He Lives
Heather Cooper – I Worship Only You
Chrysann Moore – O Give Thanks
Nikeya Young – Victorious One
Donald Lawrence 20 Year Celebration Vol.1 – Best for Last (20 Year Celebration Vol. 1)
Eric Mayo Family & Friends – For God So Loved the World
GA3 – Alternative Lifestyle
Djay Perkins – Transfusion
Praise & Worship – Artist of the Year
Todd Dulaney – Pulling Me Through
Brandon Roberson – Brandon Roberson "Live"
Ryan Booker – Free 2 Worship
Donny Pomerlee -This Great Day
Praise & Worship – Group of the Year
Shekinah Glory Ministries – Surrender
Jason Miller and Change Ministry – You're Great & Mighty
Atmosphere of Heaven – Atmosphere of Heaven
Johnell Nicholas & ISM – Declaration
Carl Hearne & Priesthood – We Lift Our Hands
Awesome – Written by Charles Jenkins
Jesus Will- Written by James Cleveland
"The Gift"- Written by Donald Lawrence –
Only You Can Deliver- Written by Kevin Vasser & Phillip Feaster
Favor Ain't Fair- Written by Kim Stratton
The votes for tabulated by iwebmaxx.com and the artist that received the most votes in each category are the official nominees for the Chicago Gospel Music Awards.
The final round of voting began Friday, May 23, 2014, and will end midnight Thursday June 5, 2014.
The artists who receive the most votes will be announced "LIVE" during the Chicago Gospel Music Awards ceremony at the House of Hope Arena 752 E. 114th Street, Chicago, IL on Friday June 13, 2014 at 7 pm (CST).
Cast your vote today for your favorite Chicago gospel recording artists and be the first to purchase your tickets at

www.chicagogospellive.com.