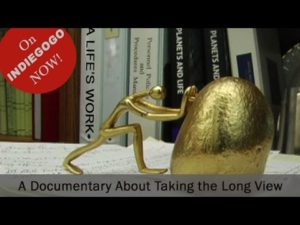 By Bob Marovich
When his mother passed away in 2004, filmmaker David Licata began to ponder life's timeless questions: What is our purpose on earth? What do we want to leave as a legacy?
The result is a forthcoming documentary, A Life's Work.
Licata's first feature-length project (he has completed two short films) showcases how several individuals have answered this question–by tackling a project so immense that they will not be completed in their lifetimes.
After more than a decade of interviews and filming, A Life's Work is in its final phases of production, with completion anticipated for the first quarter of 2017. Right now, the film requires technical experts and equipment to provide the all-important finishing touches. Licata has launched a crowdfunding page to secure funding for this final phase.
With about $6,000 of the $30,000 goal in hand, A Life's Work needs your help to bring it to completion and to the public.
Visit https://www.indiegogo.com/projects/a-life-s-work-a-documentary-music#/ to participate.  The campaign ends August 26, 2016.
The concept of personal legacy wasn't new to Licata. He told the Journal of Gospel Music that growing up in Catholic school, he was fascinated by stories about how the world's great cathedrals took centuries to build, and how generations of stonemasons dedicated their lives to these architectural wonders, knowing they would never see the finished product in their lifetimes. The loss of his mother gave him a fresh perspective on the concept of legacy.  He wondered how others dealt with this issue.
With a nonprofit sponsorship courtesy of the New York Foundation for the Arts, Licata started A Life's Work. He began shooting in 2005. He interviewed architect Paolo Soleri (now deceased) and dug further into the story of the SETI Institute, an organization that for decades has sought to find extraterrestrial life in the cosmos.
Wanting the film to also include a collector with an insatiable appetite for finding holy grails, Licata happened upon an NPR broadcast on which Baylor University Professor Robert Darden talked about the Black Gospel Music Restoration Project. The BGMRP has a singular objective: to digitize every recorded gospel music performance by African American artists. Darden said there are so many gospel records yet undiscovered that the BGMRP will never be completed in his lifetime.
Licata was familiar with gospel music, particularly from listening faithfully to Kevin Nutt's weekly "Sinner's Crossroads" gospel music broadcasts over radio station WFMU. He felt that the spiritual element of gospel music, coupled with his personal interest in vinyl records, would complement the film's other subjects nicely. Darden agreed to participate and the Black Gospel Music Restoration Project became the fourth subject of the film.
A Life's Work is slated for release as a 90 minute feature-length film and a 60 minute version edited for television.
Licata hopes that the documentary helps people recalibrate the way they think about solving problems. Certain issues may not be solved in one's lifetime, he reasoned, but that doesn't mean one's lifetime can't be dedicated to solving big issues. As such, he sees A Life's Work having particular value for high school and college students pondering their life's purpose.
"More than anything," Licata commented, "A Life's Work has brought my own understanding of patience to a new level. The Tortoise and the Hare story has new meaning for me, and that nothing worthwhile can happen overnight."
For more information on the documentary, visit http://alifesworkmovie.com/blog/.  
Check out this video for a summary of the film's purpose and needs: