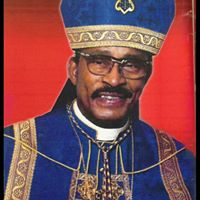 By Bob Marovich
The Journal of Gospel Music was saddened to learn this morning, via a posting by Pam Morris-Walton and the Chicago Crusader, of the passing of Archbishop Lucius Hall.
Archbishop Hall was born and raised in Chicago. Prior to forming his own church, the First Church of Love and Faith, in 1980, on Chicago's south side, he was associated with the First Church of Deliverance, led by Reverend Clarence H. Cobbs. Hall grew up in First Church and gained renown as its radio announcer. For many years, Hall was heard every Sunday evening on the church's legendary radio broadcasts. He also organized the Youth Department of the church's convention and was vice president of the Broadcast Ministers Alliance of Chicago.
Cause of his death is unknown. More information will be forthcoming. In the meantime, keep Archbishop Hall's friends, family, and the First Church of Love and Faith congregation at the top of your prayer list.