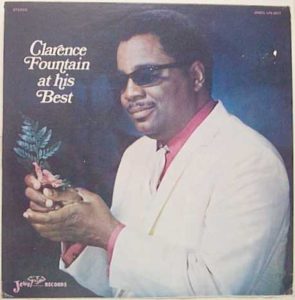 By Bob Marovich
Clarence Fountain, the longtime lead singer and an original member of the Grammy Award-winning Blind Boys of Alabama, passed away this morning. He was the last of the original members of the group that was organized in 1944.
Six sightless pupils, including Clarence Fountain, left the Alabama Institute for the Negro Deaf and Blind in Talladega, Alabama, in 1945 to pursue a career as a professional gospel group. Initially known as the Happy Land Singers, the group was among the early quartets to incorporate hard-singing gospel techniques into their rhythmic harmonizing.
The bio from the National Endowment of the Arts, which bestowed upon Fountain and the Blind Boys of Alabama its prestigious National Heritage Fellowship in
1994, gives a great overview–from the group's early history to its current days as arguably the most successful of Golden Era quartets to transition into the world of American popular music. https://www.arts.gov/honors/heritage/fellows/clarence-fountain-blind-boys
More information on Mr. Fountain's homegoing service will be forthcoming. Meanwhile, may God bless Mr. Sam Butler, who has worked closely with Mr. Fountain for many years, as well as the Blind Boys of Alabama and their many friends and fans.