Yvonne Wesley-Seabrooks, president of the Chicago Area Gospel Announcers Guild, informed TBGB that Bill "The Mailman" Martin, gospel announcer and president of the Texas Chapter of the Gospel Announcers Guild, died in his sleep yesterday.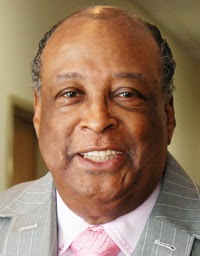 Born in Asheville, North Carolina and, at one time, a budding jazz saxophonist, Martin became Austin Texas's most popular gospel radio personality.  He spun gospel on KIXL and most recently on "The Word," KLGO 1490 AM.  Martin was a member of the Gospel Music Hall of Fame, founded the Texas Gospel Announcers Guild, was a fixture at the annual Gospel Announcers Guild conventions, and a real gentleman.
Our prayers go out to his 
son and daughters.
Homegoing details for Bill Martin, courtesy of Deacon Dennis Cole
PRE MUSICAL CELEBRATION SERVICES
3417 East Martin Luther King Jr. Blvd