G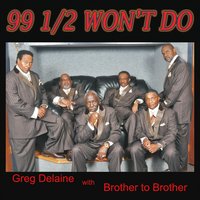 reg Delaine with Brother 2 Brother
99 ½ Won't Do
Trumpet Records LLC (2016)
www.gregdelaine.com
By Bob Marovich
On 99 1/2 Won't Do, Central Florida contemporary gospel quartet Greg Delaine and Brother 2 Brother combines sweet harmonies with hard lead singing and plenty of preaching/testifying. What they have done on this, their latest album, is to recreate the informality of the live program in the recording studio. Extended stories and vamps are techniques quartets use to play to the audience; Brother 2 Brother does it here, but sans audience.
The lyrics present simple truths by blending church wisdom, personal belief, movable couplets from other gospel songs, and dramatic biblical references. Although the titles of some of the songs seem familiar, they are newly composed selections or arrangements significantly different from the original melody. "We've Come This Far By Faith," for example, contains the premise of the original but barely resembles it otherwise.
Musically, the tracks work within the contemporary gospel quartet tradition, not unlike the smooth delivery of artists such as George Dean and the Gospel 4. Tracks such as "This Joy That I Have" demonstrates the quartet's preference for a measured presentation. Songs such as "Hang On In There" and "What You Know About Jesus" contain singalong choruses, the latter being the popular congregational song in all of its enthusiastic antiphonal glory.
The only variance on the album is "I Made It," which veers into rock and psychedelia. A prominent synth on "Old Time Religion" is anachronistic. It seems odd for a medley of church hymns and classic gospels, introduced by a call to "go back to the old time way," to be met with brassy blasts of synth instead of a purring organ, piano, and guitar.
Nevertheless, the group's lead singing and harmonies carry 99 1/2 Won't Do. They put an easy-as-Sunday-morning patina on an hour's worth of unpretentious messages.
Three of Five Stars
Pick: "What You Know about Jesus."