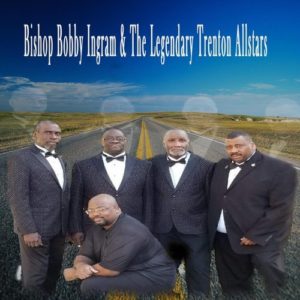 Bishop Bobby Ingram & the Legendary Trenton Allstars
Blessings Keep Coming
1 Sound Music Group (release date: September 11, 2018)
By Bob Marovich
With five tracks and a bonus selection, Blessings Keep Coming by Bishop Bobby Ingram and the Legendary Trenton Allstars is technically an EP, but the North Carolina-based male quartet ekes out as much utility as it can from the limited disc time.
The title track is a hard-charging celebration of continual blessings for not just basic necessities but also the grander goodness of peace and happiness. "Praise His Name" sets the Biblical Gospel Singers' classic congregation favorite "I Came to Praise His Name" to a leisurely quartet strut, with fine call-and-response between Bishop Ingram and the group. "Nobody Could Do" is a slow jam, the group stretching out lyric lines like fresh taffy as they express their gratitude to God for making a way out of no way.
"Going Home" is a loping mid-tempo evocation of the afterlife, where we will all be going "in a few more days" (metaphorically, of course, else what does Bishop know that we don't?!). During the call-and-response, Bishop Ingram and the quartet loft classic heaven metaphors such as the starry crown, the long white robe, and the streets of gold. It concludes with a gushing vamp on finally seeing Jesus, in all of his blood-stained majesty. The spiritually encouraging "Over and Over" is an easygoing drive-tempo piece with some lead trading.
The bonus track is "Come By Here." Also known as "Kumbaya," the song features hard singing, a thrumming rhythm section, and a dynamic vamp, all of which turn the well-known folk song into a dynamic quartet selection.
Blessings Keep Coming consists of conventional quartet singing by the Legendary Trenton Allstars, who are backed by a fine rhythm section, though the music could have used less synthesized horns. The keyboard player does a good job, but to my thinking, a quartet sounds better with guitar, drums, bass, and organ/piano, not synth.
Three of Five Stars
Pick: "Going Home"