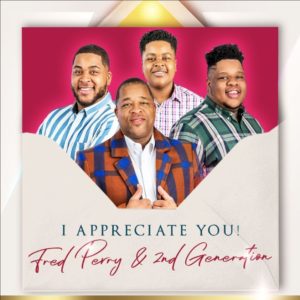 "I Appreciate You"
Fred Perry & 2nd Generation
3sonzmanagement (release date: April 10, 2020)
By Bob Marovich
A color photo of the Bolivar, Tennessee, quartet Fred Perry & 2nd Generation being tucked in an envelope fits well with the theme of their single, "I Appreciate You." It's a thank you note to the Lord, plain and simple, for keeping them safe in the midst of a world gone wrong.
To that loping medium tempo characteristic of modern quartet, the family harmonizers (father and three sons) loft plaudits to the Most High for making death behave.
By the vamp, Fred Perry gets to shouting about the good Jesus has done, going all the way back to the Bible days. Something tells me this is a radio edit, because the men are just getting started when the song concludes.
Frederick E. Perry, the eldest son, wrote and produced "I Appreciate You," which has old school in its bones but is modern in instrumentation and arrangement.