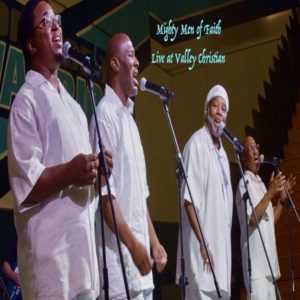 Mighty Men of Faith
Live at Valley Christian
N2L Records (release date: January 21, 2020)
https://store.cdbaby.com/cd/mightymenoffaith15
By Bob Marovich
Live at Valley Christian by the Mighty Men of Faith was recorded in front of 2,400 enthusiastic young students at the Valley Christian School in San Jose, California.
Typically, there's no more critical crowd of listeners than a group of young people, but the Mighty Men of Faith appear to have won them over.
The smooth modern quartet brought their friendly and relaxed delivery to the school—they sound like the Dells singing gospel. The California-based quartet's music is driven by a rhythm section led by Prince Damon on keyboard. Cierra Davis is on drums, Neil Castro handles lead guitar, and Vernon Hall is on bass.
Most of the songs are originals, though one, the finest on the album, is a cover of "Clean Up," the Canton Spirituals' resolution to undergo a process of self-improvement. It is rendered to the students as a cautionary tale.
"Magnify His Holy Name" is a quartet song with a P&W heart. The singsong "Believe in His Promises" has a rapping vamp that originated, in part, with the CMCs: "Ain't no party like a Holy Ghost party / 'Cause a Holy Ghost party don't stop." It's an ideal vehicle to deliver a message of encouragement to youth.
"Now I'm New" features superb falsetto singing. Hip hop elements figure into the melodic harmonies of "Power of We," and Isaiah Houston's prayerful composition,  "A Friend of God," gets a warm and gently buoyant treatment. By the concluding track, "This Joy," it's evident that the quartet enjoyed appearing before the youth as much as the youth enjoying having them as guests.
Live at Valley Christian is like Goldilocks' porridge – just right.
Three of Five Stars
Pick: "Clean Up"