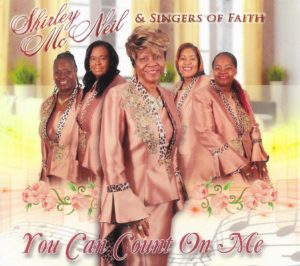 Shirley McNeil & Singers of Faith
You Can Count on Me
Independent (2020)
By Bob Marovich
Originally issued in 2018, I'm All You See by the female quartet Shirley McNeil & Singers of Faith has received a makeover and is angling for national attention under a new title, You Can Count on Me.
Buoyed by Ray Braswell Jr's crisp production, the album features contemporary gospel quartet singing just like one hears in the Carolinas, from whence the group hails. Songs with conventional church messages benefit from standard modern instrumentation, mid-range harmonies, and call-and-response work between the quartet and lead singer Shirley McNeil.
To make best use of her limited vocal range, McNeil maintains a straightforward and conversational, almost detached, delivery. She does not attempt to reach notes outside her range. Her best lead work is on "Take Your Burdens," sung to the tune of Sam Cooke and Lou Rawls' 1962 hit, "Bring It on Home to Me."
The former title track, "I'm All You See," is about the transformative power of salvation. "There's been a change in me," Shirley sings. Among the manifestations of her new life: "I don't use the bad words that I used to use." She could teach people on social media a thing or two.
"If You Got Jesus" has a languorous country beat. Shirley encourages listeners to not let anything bother them, whether it's cancer or hard-headed kids. "Me and Jesus" likens one's relationship with the Lord to an earthly love affair: "We got our own thing going….he never gets tired of me."
The album's hand clapper is "Let Me Lean on You," a gospel quartet standard recorded by such artists as the Brooklyn All Stars featuring Thomas Spann, the Bells of Zion, and more recently by the Soul Messengerz.
The lyrics on the album are standard pulpit-honed messages as plainspoken as Shirley McNeil's delivery. They are also peppered with familiar gospel quartet lyric couplets. The quartet's thematic vision for the album can be captured in the title of the final selection, "Help is One Prayer Away."
Three of Five Stars
Pick: "Take Your Burdens"