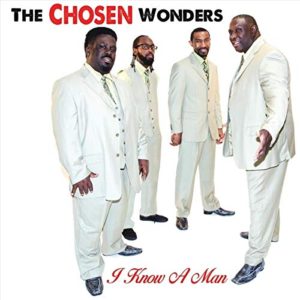 The Chosen Wonders
I Know a Man
Independent (release date: October 15, 2019)
By Bob Marovich
The Chosen Wonders, a gospel quartet from Central California, refashions a few gospel chestnuts for their seven-selection mini-album, I Know a Man.
For example, the title track is a contemporary harmony version of Brother Joe May's 1950 hit, "Do You Know Him." Likewise, "Main Line" is the old standard, "Jesus is on the Main Line," also rendered in a steady-moving modern quartet vibe (I wonder how many remember when there was a "main line!").
Opening with classic quartet guitar flourishes before settling into a medium tempo groove, "I Cried Lord" evokes the lyric content, if not the blues base, of the Highway QCs' '80s version of "Something's on My Mind (That's Worrying Me)." It features passionate from-the-gut singing from Darryl "Stick" Stickman on the vamp. Stick leads all the songs except for "Main Line," which Samuel Sadler, also the group's drummer, handles.
The bouncily cheery "Turning Point" is a testimony song about salvation. "No more staying out late for me!" Stick declares, and later reads from Zechariah 1:3 and Isaiah 45:22 to hammer home his point about how turning to God can change a person's perspective on life.
Radio edits of "I Know a Man" and "Turning Point" close out the project, suggesting that these are the album's single picks, but to my ears, the album's top track is "Been Changed." It is the sole drive piece and reprises the theme of a joyous salvation, quoting from the lyrics of "Something's Got a Hold of Me." Its vamp features some rapid-fire antiphonal work between Stick and the group.
The album production is solid, with a focus on accenting the rhythm section and particularly the steady bass work by Rodney Jackson. It gives listeners a taste of the Chosen Wonders, and that taste is promising, so let's hope the next album features a full lineup of songs, classic and otherwise.
Three of Five Stars
Pick: "Been Changed"