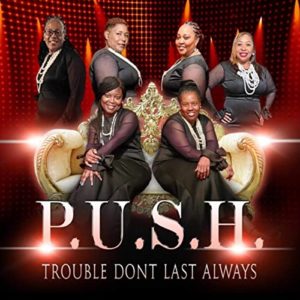 "Trouble Don't Last Always"
P.U.S.H.
Independent (release date: January 1, 2020)
By Bob Marovich
Little did P.U.S.H. know when they released their single "Trouble Don't Last Always" back in January that the sentiment would be more prophetic than they could have ever anticipated.
This female quartet from Alexander City, Alabama, has a simple but effective message: "Turn it over to Jesus." The troupe renders their simple but effective directive in call-and-response style and set to a customary modern quartet arrangement. Their singing is strong but the harmonies could use the same robust production elements given to the lead singer's vocals.
P.U.S.H. is Alexis Frazier, Felicia Johnson, Princess Russell, Shelia Wilson, Stephanie Kendrick, and Stephanie Hicks. Johnson, Hicks, and Wilson were (are?) part of another Alexander City female quartet, Ruth Black and the Harmonettes.