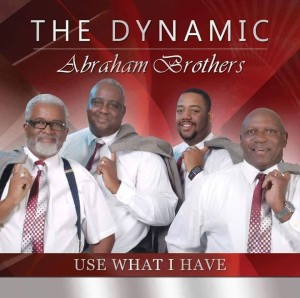 The Dynamic Abraham Brothers
Use What I Have
New Ham Records
By Bob Marovich
I don't know what else the Dynamic Abraham Brothers could possibly have done to make Use What I Have a more archetypal gospel quartet album.
First, the quintessential quartet drive tempo quickens the title track as well as the handclapping "God Wants to Move" and "No More Yokes." Whereas gospel quartet albums today have one, maybe two, drive songs, Use What I Have has three.
Second, the lyrics cover well-trodden quartet territory, which means country church wisdom that has been the foundation of gospel music for decades. The opening shout sets it up: "There's chaos all over the world." Indeed, there is plenty of chaos, and songs such as "Don't Let Satan Ride" and "Family Reunion" provide life lessons on how to overcome it. "The Touring Singers Prayer," recited at a live performance, asks the Lord for traveling mercies as it reminds us of the auto accidents that plaque quartets.
Third, there's the nod to history. "Medley" offers a brief story of the group in word and song style—this is the second and third generation of a group whose founding fathers began recording in the days of 78 rpm shellac. To this I add "Touch Me Master," which rolls on an old-fashioned country beat that demonstrates the symbiosis between gospel and country music that does not get discussed nearly enough. Even Thomas A. Dorsey's early songs had the country beat.
If anything is out of place, it's the brief instrumental "Musical Prelude," which seems extraneous, neither traditional nor contemporary, nor thematically connected to any other track.
In a fairer gospel music world, quartets such as the Dynamic Abraham Brothers would get greater attention. They certainly deserve it. They put everything they have into Use What I Have.
Five of Five Stars
Picks: "Use What I Have," "God Wants to Move"