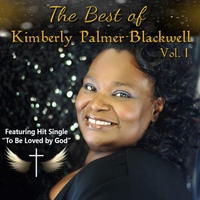 "To Be Loved By God"
Kimberly Palmer-Blackwell
From the Thornewell Records album The Best of Kimberly Palmer-Blackwell, Vol. 1
www.cdbaby.com/cd/kimberlypalmer14
It's Kimberly Palmer-Blackwell's soaring, soulful vocal that sells "To Be Loved By God," a heartfelt melody and just-right arrangement reminiscent of early 1980s R&B balladry.
To depict God's love as better than all earthly desires, Kimberly builds the emotion without resorting to melismatic runs or shouts. One can imagine the singer standing flatfooted and alone on an altar or stage, belting out this song in a powerful, resonant tone.
Born in Ashtabula, Ohio, Kimberly Palmer-Blackwell is a member of the SDA Church. She has recorded as a soloist, with her sister Faye Palmer-Reid, and as a part of the P.F.A. Choir, under the direction of Gwen Foster. Written by her brother, Harvey Palmer, "To Be Loved By God" is one of the singer's most requested songs in solo performance.