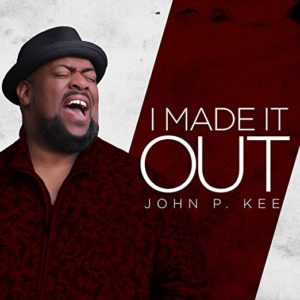 John P. Kee
I Made It Out
Entertainment One Music (release date: September 13, 2019)
www.eOneMusic.com
By Bob Marovich
In little more than a generation, Pastor John P. Kee has gone from the new kid on the block to the Prince of Gospel Music, a leading light whose name is frequently invoked by the current generation of gospel artists.as an inspiration.
I Made It Out is Kee's first album for Entertainment One since joining the label earlier this year. It's also his first release since 2015's Level Next.
Those who grew up on Pastor Kee with the New Life Community Choir or with the Victory in Praise Choir will find that trademark meaty, funky rhythm section and full-throated choir on selections like the joyous title track (featuring the equally gruff-voiced Zacardi Cortez) and "Mighty Yes You Are," with Kee expressing his gratitude to God through a relentless vamp of rhyming couplets.
Overall, though, the album is more tempered in tone, in line with "Standing in the Need" instead of "He'll Welcome Me."
"He Careth for You" is an excellent example. Kee's cry-tinged, pulpit-honed voice paints a portrait of a loving heavenly father as the choir tenders a dignified and measured arrangement. Likewise, "Created to Worship," with Micah Stampley handling the lead, evokes the harmonically textural work of the rich choir ballads in Kee's back catalog. Regardless of the tempo, the album's songs are solid and several have the potential to be incorporated into the music ministries of many churches.
Of the featured vocalists, Chrystal Rucker shines the brightest. She is her consistently masterful self, handling lead duties on "One God," a worship ballad that takes Psalm 46:10 for its text. A close second is Tallie Rogers, whose firebrand style of singing lifts the otherwise conventional worship piece "Great Name" to a new level.
The final two tracks—a new version of Kee's 1994 "Colorblind" (this time with PJ Morton), and "Respect," featuring Portland, Oregon, vocalist Ashley Jayy—provide the album with helpings of social messaging. The retro Stevie Wonder-esque "Colorblind" calls for racial amity—a plea as important today as it was 25 years ago. "Respect" is about doing right by the next generation so they grow up with self-respect, renewed hope for a better day, and are equipped with the tools to make it out.
Five of Five Stars
Picks: "He Careth for You," "I Made It Out"