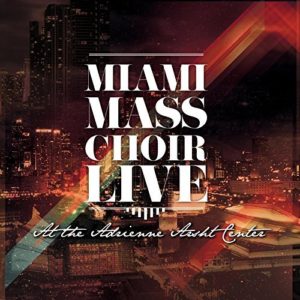 Miami Mass Choir
Miami Mass Choir Live at the Adrienne Arsht Center
MaJo Records (release date: December 9, 2016)
Available from online music retail outlets
By Bob Marovich
Having fun while worshiping is the overall impression one gets listening to Miami Mass Choir Live at the Adrienne Arsht Center, the choir's latest full-length release in some fifteen years.
And I don't mean frivolous fun, but a bouncy joie de vivre from enjoying the worship experience. In other words, no new age religion, no extended moments of quiet rapture, no overly complex arrangements, no whispering all over the place.  It's about extroverted and stirring contemporary gospel music delivered in the dynamics of a live setting.
The Miami Mass Choir was founded in 1995 by Pastor Marc Cooper with the encouragement of Savoy Records' Reverend Milton Biggham.  Cooper is still the choir director, and he's the producer and executive producer of this album.
The most inspired decision was to invite "Miami Soul Queen" Betty Wright to lead "That's What He Is." To the rhythm of clapping hands and clomping feet, Wright relates with relish how she calls on Him in time of need. The star turns continue with Beverly Crawford rendering the slow-burning, minor-keyed "Calvary." Crawford is her usual effervescent self as she ponders the rhetorical question of why Jesus would die for wretches like us. The emotional pitch of the song stimulates the first of the album's two praise breaks.
The other praise break comes after "Thank You Jesus." Zacardi Cortez and JaLisa Faye take a simple melody and easy-to-learn lyric—ready made for congregational singing—and turn them into an explosion of improvisation. I can't remember the last time I listened to an album that contained two praise breaks.  The musicians, singers, and live audience must have been exhausted by the end of the recording session, and it's almost certain the Arsht Center hadn't seen the likes of it until then.
With its salsa feel and Spanish lyrics, "Good News" pays homage to Dade County's significant Hispanic Christian population. During the song's reprise, the tempo moves from andante to feet-flying frenetic as horns blast out improvisational riffs of white heat.
"All I Need," featuring vocalist Avery Jones, is the album's "let's go to church" track. It feels like a quartet arrangement for gospel choir, especially during the "Holy Ghost Power" segment, which evokes the Victory Travelers' version of the latter. Although broken into two parts for radio friendliness, the selection needs to be heard in its entirety.
Listen for masterful guitar work throughout by veteran studio musician Jonathan DuBose Jr.
The Christian rock-fueled final cut, "Overcome," could easily be overlooked because it is of a different construct from the other tracks. Nevertheless, it employs the familiar "We Shall Overcome" mantra to carry an important message for our time: keep up the fight for a better nation–for your children's sake and to honor our ancestors' many sacrifices.
Five of Five Stars
Picks: "That's What He Is," "All I Need," "Calvary."